ReSound Hearing Aids in Springfield
---
ReSound has been manufacturing world class hearing devices since 1943, providing exciting and innovative technology to distributors in over 80 countries. They combine advanced hearing solutions with designs that reflect what hearing aid wearers want, so you always get the best in technology and performance in a beautiful device that's sleek and easy to wear.
ReSound has given the industry some impressive firsts, from Dynamic Range Compression technology to Digital Feedback Suppression that eliminates distorted whistling or buzzing sounds, as well as the first hearing instrument that incorporated vents to provide more natural sound and eliminate the feeling of having a plugged ear.
Perhaps their most well-known innovation is the Made for iPhone technology featured in all ReSound's latest hearing aids that allows you to seamlessly connect with your iPhone, iPad, and other Apple devices, giving you the ultimate in connectivity. If you don't have an iPhone, don't worry. You can still enjoy ReSound's advanced technology using their Phone Clip+ to stream audio to your Android or other Bluetooth-enabled phone.
Introducing a Rechargeable Option: LiNX Quattro
---
ReSound LiNX Quattro is the world's first Premium-Plus hearing aid with unprecedented Layers of Sound™ and the world's most advanced rechargeable solution.
---
Hear more Layers of Sound™
With ReSound LiNX Quattro both low and high-pitched sounds are fuller and more natural. Quiet situations are truly quiet and louder sounds are comfortable, crisp and distortion-free. Children's laughter and the high notes and deep tones in music, are now fuller and more enjoyable.
With 100% more speed and twice the memory capacity ReSound LiNX Quattro offers high performance with reduced power consumption.
Clear Speech Understanding + Accurate Spatial Awareness
Purchase a ReSound hearing device, and you're guaranteed to get some amazing features. All ReSound hearing aids use the Binaural Directionality II program, which works in tandem with Spatial Sense to give natural hearing that helps the brain process the sounds around you. You'll have clear speech understanding, and accurate spatial awareness.
---
The ReSound Smart app gives you discreet and easy access to the programs and settings of your hearing aids. Through the app you can control ReSound's tinnitus sound therapy program that provides relief from the buzzing or ringing sounds that interfere with your daily life. Using a large selection of therapy sounds, the sound generators draws your attention away from the tinnitus, providing relief and allowing you to get back to the important things in life.
You can even use your phone to track your hearing aids. Have you ever misplaced your hearing aids and spent a few frantic minutes overturning the house looking for them? With this new tracking technology, ReSound takes the stress out of finding your hearing aids with the Find My Hearing Aids. It will show you the exact location of your hearing devices, whether they're under the couch cushion or in your gym locker across town.
Available in a Variety of Styles and Colors
Not only does ReSound provide world-class features and technology, their hearing instruments also come in a range of styles, from behind-the-ear (BTE) models to subtler in-the-ear (ITE) and completely-in-the-canal (CIC) styles. They are available in a wide range of colors to match hair or skin tones.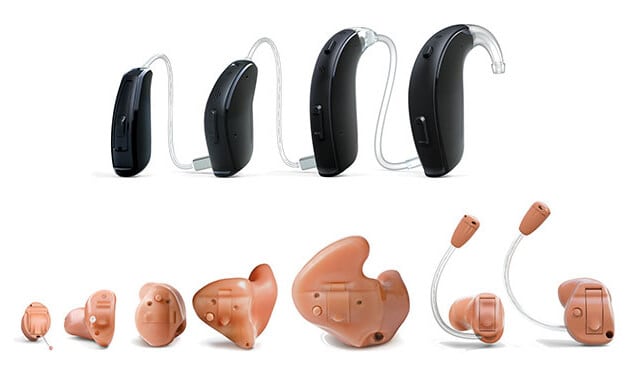 ReSound LiNX 3D
With LiNX 3D, the future of Smart Hearing has arrived. As a Made for iPhone hearing aid, LiNX 3D is designed to provide you incredible access to all of the best features of your smartphone. Stream FaceTime, phone calls, movies, and other media directly to the LiNX 3D, using them as stereo headphones. By eliminating intermediary streaming devices, you now have immediate access to crystal clear sound.
Whenever you make adjustments to your listening experience on the Smart App, your preferences are stored with a GPS-pinned location. When you return to these locations, your LiNX 3D aids will automatically adjust to your saved preferences, providing truly seamless access to sound. The Smart App also offers tinnitus management options and a feature that locates your misplaced hearing aids.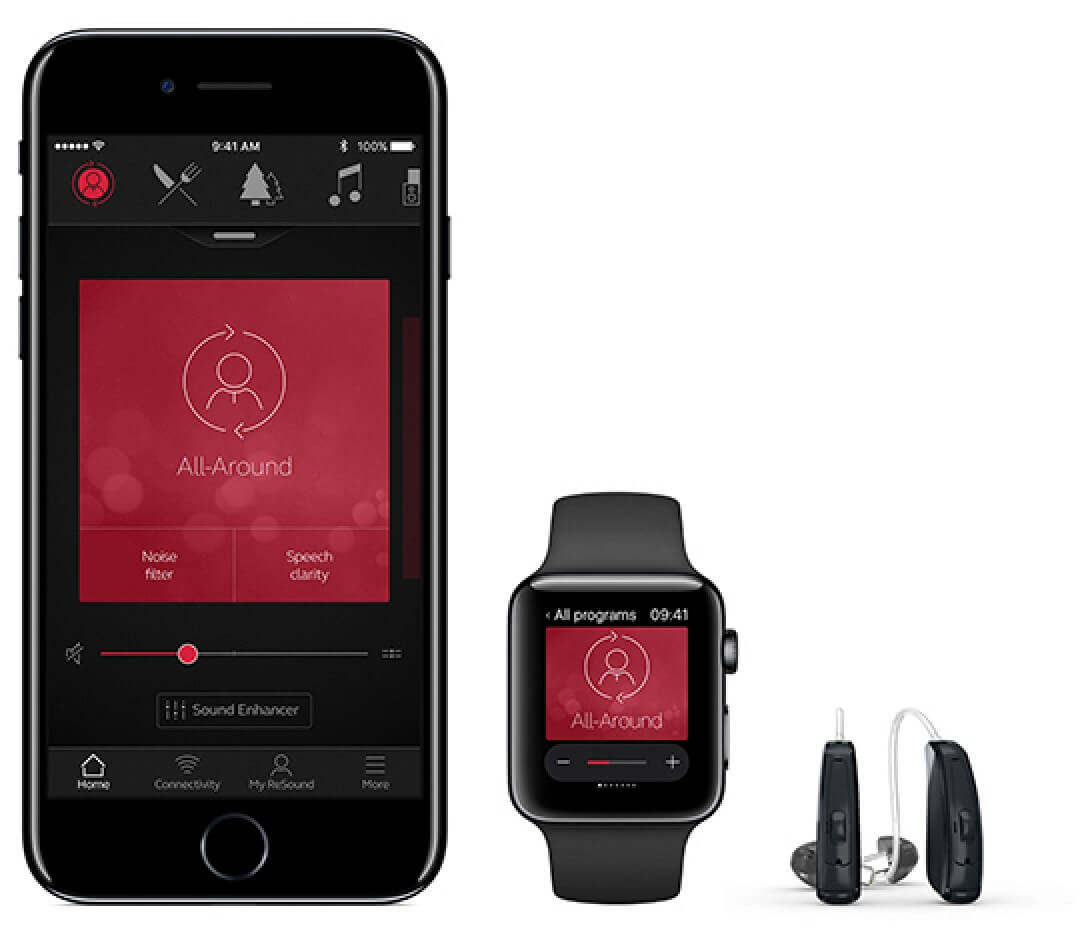 ---
Improved Features
As a member of ReSound's LiNX family of smart hearing aids, the new LiNX 3D builds upon the great features in previous models. LiNX 3D provides wearers with access to superior sound, a better sense of the directionality of sounds, and exceptional speech understanding, with Binaural Directionality III and Surround Sound. Speech recognition is also improved with the LiNX 3D, with technology that helps you focus on speakers' voices, even in challenging background noise. Together, these features work together to pick up data from your environment and balance them to provide a natural and rich listening experience.
Compared to similar advanced hearing aids, LiNX 3D has been found to identify speech 50% better in noisy environments and helps wearers understand up to 40% more accurate speech in noise. Additionally, LiNX 3D helps wearers hear up to 80% more of the sounds around you, as proven by an independent study. With these improved features, you can focus on what you want to hear and give your full attention to the people and places around you.
Smart Fit
When you are first fitted for your hearing aids, we ensure that your LiNX devices are set to meet your specific hearing needs. The ReSound app for your iPhone (or Android) allows you to make minor adjustments to adapt to different sound environments you may encounter. Over time or in certain situations, you may find that you require listening adjustments that are beyond your control. There's no need to come into our offices for adjustments with the LiNX 3D. ReSound has introduced a brand-new software, Smart Fit, to assist in these situations.
Through the Assist app, you may send a request to us at Hearing Wellness Solutions. Your hearing specialist will make the proper adjustments and send you an upgrade through the cloud. Simply upload these settings to your LiNX 3D aids and experience immediate access to a clearer listening experience, with personalized, fine-tuned adjustments.
---

LiNX 3D Styles & Models
LiNX 3D is designed to treat varying degrees of hearing loss. With sleek, discreet design, LiNX 3D is barely noticeable. The receiver-in-ear option is merely 0.82 inches tall and is a popular choice for people who prefer discretion or lead busy, active lives. The behind-the-ear option, though slightly bigger, is still discreet and easy to operate. Custom fit styles are also available, ranging from invisible-in-canal to completely-in-canal to in-the-ear options. With a wide range of colors available, LiNX 3D can be customized to blend in with your skin and hair color.
ENZO 2
For a powerful hearing aid, ENZO2 is the device for you, whether your hearing loss is mild or profound. With advanced speech focus programs, this behind-the-ear (BTE) hearing aid is a small device with super power for every listening situation, and provides 10% higher stable gain for hearing aid wearers with severe hearing loss. Sound Shaper is ReSound's solution to high frequency hearing loss, and this program moves high pitched sounds to a lower register that's well within your hearing range. You'll be back to hearing sounds you haven't heard in years, like the birds out the window or your grandchildren laughing.
Using the ReSound Smart app, ENZO2 can be easily customized by adjusting treble, bass, and volume so you can control you listening experience. You can even geo-tag settings to automagically activate when you are in certain locations, so you don't have to fiddle with changing settings every time you walk in the door from a long day at work. Like all ReSound hearing devices, ENZO2 also offers full connectivity to Apple products.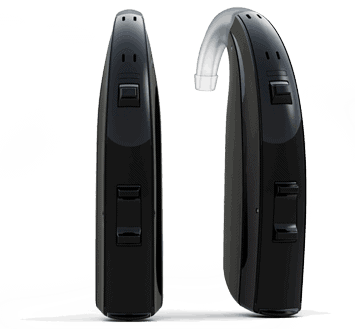 How to pair LiNX to iPhone
---
For more information on ReSound's devices, contact us at Hearing Wellness Solutions.
---