Phonak Hearing Aids in Springfield
About Phonak Hearing Aids
Founded nearly 70 years ago in Switzerland, Phonak is a global manufacturer of hearing aids, committed to connecting people with their loved ones and the things they are passionate about by restoring their hearing. Constantly transforming and innovating, Phonak pledges not to rest until "wearing a hearing aid is as simple and routine as eyeglasses or contact lenses."
Phonak engages with an international community of hearing professionals, taking in their expertise and experience to improve their products, while also pioneering innovations with hearing instruments. In the last decade, Phonak launched the Hear the World initiative to raise awareness about the importance of hearing and the consequences of hearing loss.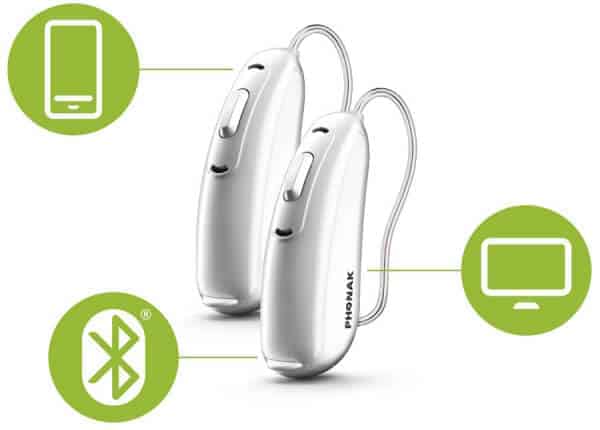 Conversations shine with Lumity
Phonak Audéo™ Lumity
Being able to fully participate in conversations is like a spark of light in the dark. When you can hear and understand conversations around you, it can illuminate your whole world. This is where Phonak Audéo Lumity™ really shines. It focuses on giving you improved speech understanding with its unique Phonak SmartSpeech™ Technology1 Now you can enjoy conversations even in challenging listening situation.
contact us
---
Hearing Aid Features
Improved speech understanding in noisy environments
Reduced listening effort1
Universal connectivity to iOS®, Android™ and other Bluetooth® enabled devices
Waterproof* (Audéo LifeTM Lumity)
Health data tracking
Personalized noise cancelling
Access voice assistant apps with a tap
Phonak Audéo™ Paradise Hearing Aids
The world's first waterproof rechargeable hearing aid, it delivers crisp natural sound1 and is capable of being submerged in up to 50 cm or 1.64 feet of fresh or salt water.
contact us
Are Phonak hearing aids right for you?
Contact our practice today to schedule a consultation with Hearing Instrument Specialist, Candace Wawra. She will evaluate your current hearing abilities and help you decide if Phonak hearing aids are the best aids for you.