Starkey Hearing Aids in Springfield
About Starkey Hearing Aids
Founded in 1967, Starkey Hearing Technologies is an American manufacturer of hearing aids, based in Eden Prairie, Minnesota. Starkey has a long history of innovation, bringing industry firsts such as the in-canal hearing aid and the first custom, fully programmable invisible hearing aid. Starkey designs hearing instruments in collaboration with their sister research institute, Starkey Hearing Research Center in Berkeley, using data and feedback from test subjects and hearing specialists alike. Starkey's innovation has been awarded multiple times – the latest being a Silver Edison Award in 2015 for the Halo Made for iPhone hearing aid. The Starkey Hearing Foundation has donated more than 1 million hearing aids worldwide to different countries – one for each hearing aid purchased.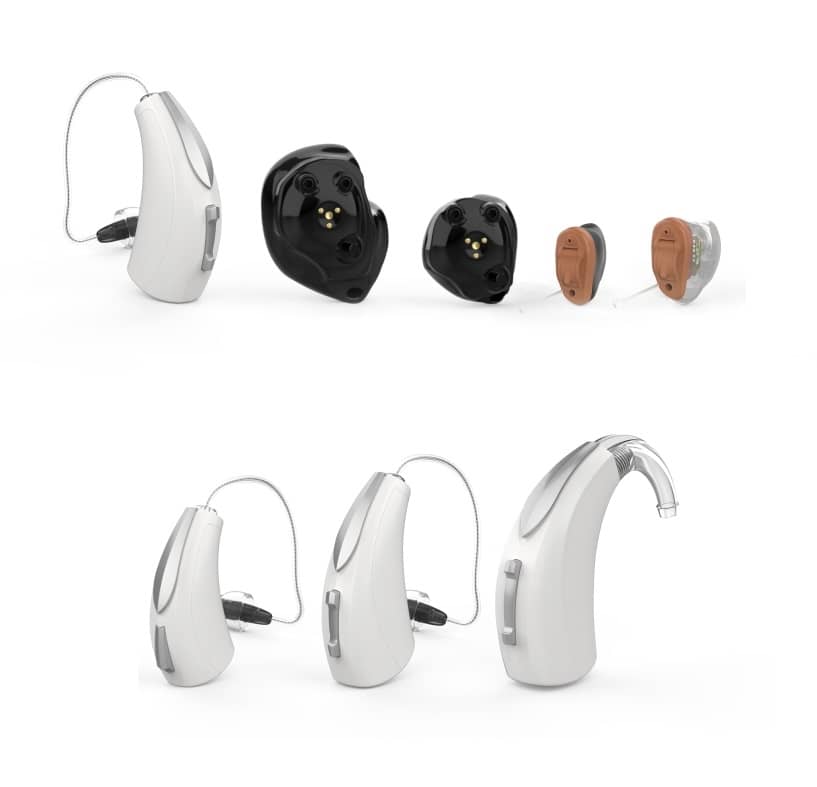 Next-generation sound never before possible. With Livio Edge AI, the power of artificial intelligence is at your fingertips, giving you never-before-possible sound performance in the most challenging listening environments.
Choose from a standard rechargeable style — or the world's first custom rechargeable hearing aid — and give yourself the edge you deserve! Starkey's industry-leading sound performance takes Livio Edge AI to new heights, providing you with instantaneous adjustments for the most challenging listening situations:
Hear speech comfortably even in busy settings while unwanted noise is suppressed.

Boost speech sounds to help make it easier to hear people who are wearing face masks.

Stream crisp, clear phone calls and experience music the way it was meant to be heard.

Connect via Bluetooth® with accessories and select smartphones.

Superior Sound Quality: Advanced technologies work together to provide exceptional sound quality in any environment.
---
Healthable Technology:
The ear is the best place to accurately track health and fitness data and Livio Edge AI is the first hearing device to provide you with that advantage!
Body Tracking: Tracks your daily steps, measures movement and monitors more vigorous physical activity.
Brain Tracking: Monitors the brain-health benefits of wearing hearing aids by tracking active listening.
Fall Detection and Alerts: Detects when you fall and sends an alert message to selected contacts.
Intelligent Assistant Technology:
Livio Edge AI hearing aids work with our Thrive Hearing Control app to simplify your life with the convenience of information services and features.
Hearing Care Anywhere: Minimize visits to our office by requesting remote adjustments, including via video chat.
Find My Phone New: Using your hearing aids and Thrive Assistant, you can now locate your lost or misplaced phone by having it ring.
Tap Control: Enables you to easily stop or start audio streaming by simply tapping your ear twice.
Self Check: Provides a quick, convenient way for you to analyze your hearing aid system's performance.
Thrive Assistant: Provides quick answers to questions like, "how do I adjust volume?" or "what's the weather?"
Translate: Communicate with people who speak other languages via a translation tool in the Thrive app.
Find My Hearing Aids: Helps you easily locate misplaced hearing aids by providing a location and a timestamp.
---
Are Starkey hearing aids right for you?
Contact our practice today to schedule a consultation with Hearing Instrument Specialist, Candace Wawra. She will evaluate your current hearing abilities and help you decide if Starkey hearing aids are the best aids for you.
---