Rechargeable Hearing Aids
Smart Hearing and Sustainable Energy Sources
Rechargeable hearing aid solutions have been available for several decades, but only recently have they been streamlined and designed for ease of use. Rechargeable hearing aids provide two main benefits: they save money and they save the environment.
Most traditional hearing aids use zinc air batteries that operate in the 1 to 1.6 voltage range. With older hearing aid models, ones that did not boast the wireless and digital capabilities now available, batteries did not require frequent replacement. With newer hearing aid models and more advanced technology, traditional zinc air batteries don't last as long as they once did. You may find yourself changing out your batteries a few times a week now, rather than once a month.
At this rate, for two hearing aids, the cost of hearing aid batteries adds up over a year. On a larger scale, the number of zinc air batteries that make their way to landfills annually adds up in a huge way. It is estimated that 150 billion zinc air batteries are dumped in landfills annually. This amount of waste is dangerous to the environment, as batteries can leak into water supplies and cause hazards to health.
Rechargeable hearing aids and rechargeable battery solutions are the way forward, for sustainable energy!
Benefits of Rechargeable Hearing Aids
These days, most hearing aids are just as advanced as our indispensable smartphones and tablets. Considered "mini computers for the ears," digital and wireless hearing aids provide wearers with incredible sound. Digital platforms take in sounds for your environment, analyze them in a fraction of a second, and deliver them to your ears as comfortable and clear sounds.
With wireless connection, hearing aids do more than they ever have before. By connecting to your smartphone, your wireless hearing aids are transformed into an assistive listening device, if you need extra amplification. Hearing manufacturer apps allow you to turn your microphone on and stream amplified sound directly to your aids. You may also connect to your smartphones or tablets to stream phone calls, music, and other media directly to your ears!
This is a huge step for hearing aids, which were once considered clunky. Hearing aids are now smaller, smarter, and faster than ever before. Of course, powering aids with this level of power require a lot of energy. That's where rechargeable hearing solutions play a huge role.
Our Favorite Rechargeable Hearing Solutions
At Hearing Wellness Solutions, we offer hearing aids from leading global manufacturers. Among these, the following offer rechargeable hearing solutions.
Phonak Audéo Marvel
Phonak raised the bar for convenience when it released the Audéo Marvel, which upon its released featured a world-first in lithium-ion rechargeable technology for hearing aids. With the Audéo Marvel, an entire day of hearing can be enjoyed on only one charge. No more searching around in your bag for hearing aid batteries! You also wont be left powerless by leveraging the streaming technology which comes built in, the Audéo Marvel can handle it.
Widex Moment
The smallest rechargeable ever! Widex has managed to fit all the benefits of the MOMENT™ platform into the smallest rechargeable lithium-ion receiver-in-canal hearing aid on the market. Users can rest easy knowing they'll always have the power they need in a discreet hearing solution. Plus, they'll never have to struggle with hearing aid batteries.
LiNX Quattro
ReSound LiNX Quattro is the world's first Premium-Plus hearing aid with unprecedented Layers of Sound™ and the world's most advanced rechargeable solution.
Hear more Layers of Sound™
With ReSound LiNX Quattro both low and high-pitched sounds are fuller and more natural. Quiet situations are truly quiet and louder sounds are comfortable, crisp and distortion-free. Children's laughter and the high notes and deep tones in music, are now fuller and more enjoyable. With 100% more speed and twice the memory capacity ReSound LiNX Quattro offers high performance with reduced power consumption.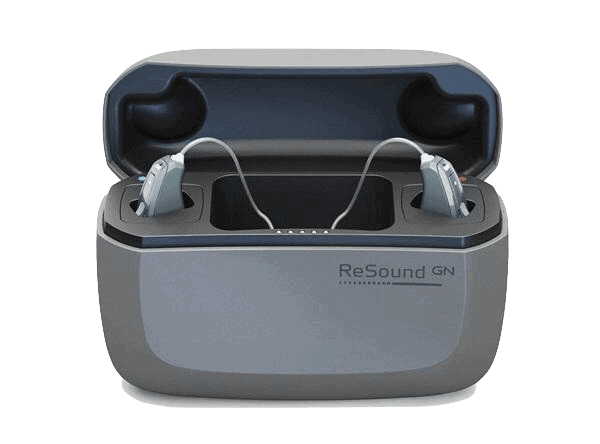 Oticon Opn™ miniRITE rechargeable hearing aids
This wireless hearing aid uses Silver Zinc size 312 batteries in conjunction with the ZPower battery charger, a convenient nightstand charger that lets you charge your hearing aid quickly and easily, with a full-charged device waiting for you when you wake up. You don't ever need to open the battery door if you charge them regularly. But if you forget to charge them, don't worry! The Opn MiniRITE also takes standard Silver Zinc size 312 batteries for added convenience.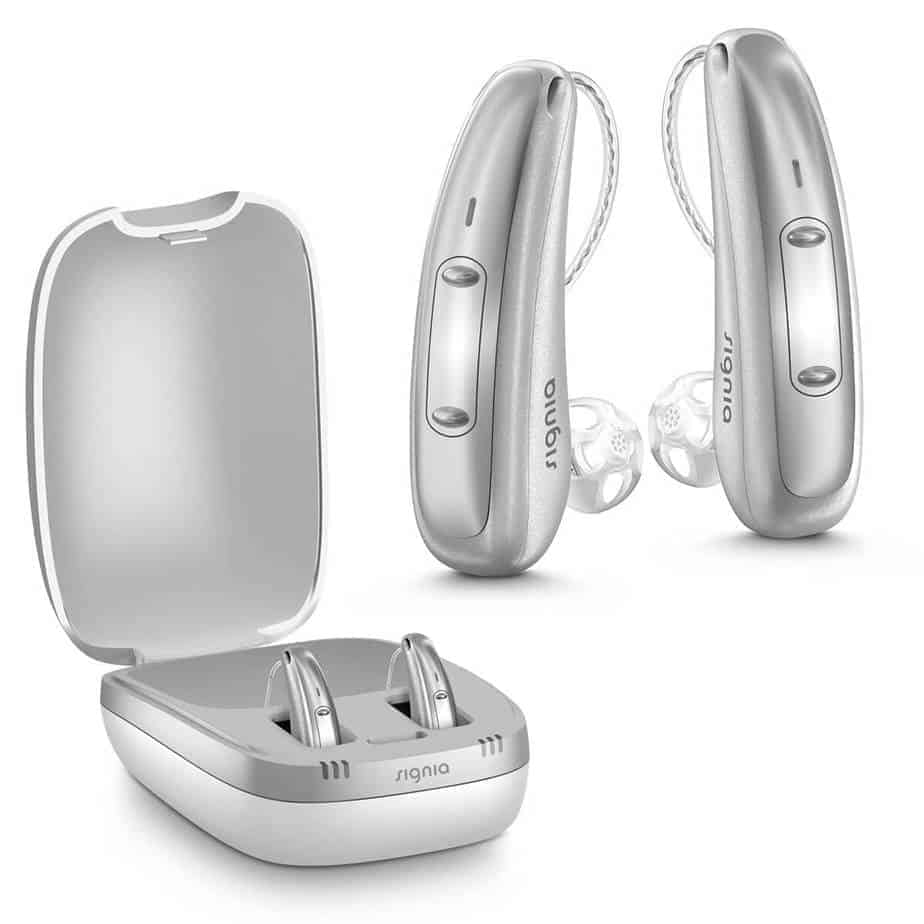 Signia Xperience
Easily charged and fully connected! You can charge up the longer-lasting Pure Charge&Go X hearing aids fully while you sleep so that they are always ready to go when you are. Thanks to the hearing aids' clever little charger, you never have to worry about changing batteries again. It delivers a full day's ultra-durable hearing performance. On top, the fast charging option gives you a quick burst of power to keep you going just when you need it most.
LEARN MORE ABOUT SIEMENS AND SIGNIA
Starkey Custom Rechargeable Hearing Aids
Livio Edge AI and Livio AI are the world's first custom rechargeable hearing aids. Multiple color options allow you to be discreet or show off your new in-ear hearing aids. The new charger provides up to 24 hours of power in a single charge. Starkey's MiniTurbo Charger is a pocket-size lithium-ion charging option that provides added grab-and-go convenience. The MiniTurbo Charger is compatible with Livio AI, Livio and Muse iQ rechargeable hearing aids and when fully charged, it can charge a pair of hearing aids four times.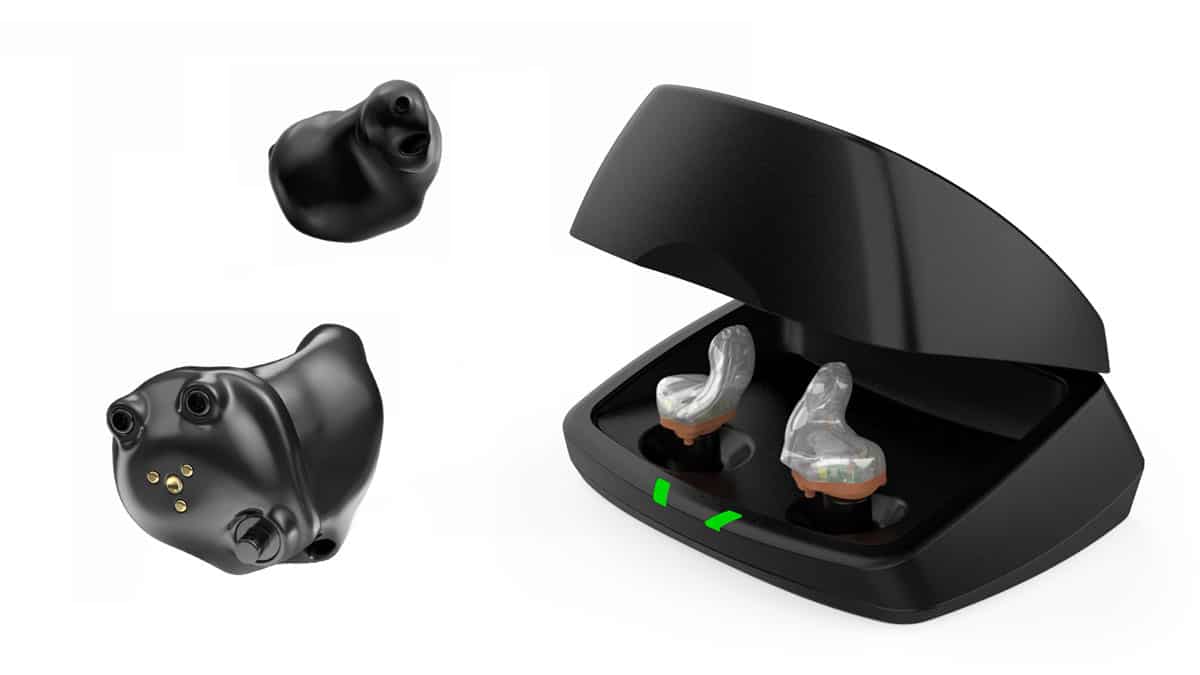 Unitron Rechargeables
Unitron now offers rechargeable solutions in three models: Moxi Move R, Moxi Jump R T, and Moxi Jump R. With a simple overnight charge in the Unitron recharging station, wake up to a full day of listening with your hearing aids.
Moxi Jump is a sophisticated new device from Unitron, with Made for iPhone connectivity and hands-free operation. Powered by the Discover Next platform, Moxi Jump R T and Jump R join Unitron's illustrious family of Made for iPhone and rechargeable hearing aids.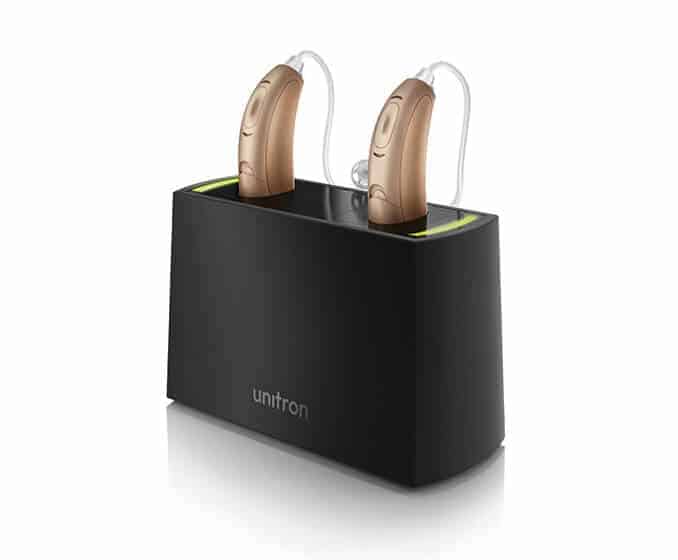 Could you benefit from seeing a hearing professional?
---
We invite you to schedule a consultation with our Hearing Instrument Specialist, Candace Wawra.
---